Plan the Perfect Staycation at the Library Hotel
Published: March 14th, 2018
Merriam Webster defines a "staycation" as a vacation spent at home or nearby. At the Library Hotel Collection we like to think of it as a perfect opportunity to check-in to one of our extraordinary  properties and check-out of your ordinary routine. You deserve to treat yourself!
Today, we would like to invite you to see what a staycation could be like at the Library Hotel in New York City. If you live in the Tri-State area, without traveling far, you can stimulate all your senses and rediscover the culture and flavors that make the world fall in love with New York City. The Library Hotel is the perfect home base for book lover's and shopper's alike.
Here are some of our concierge team's favorite suggestions to explore.
---
Morgan's Library & Museum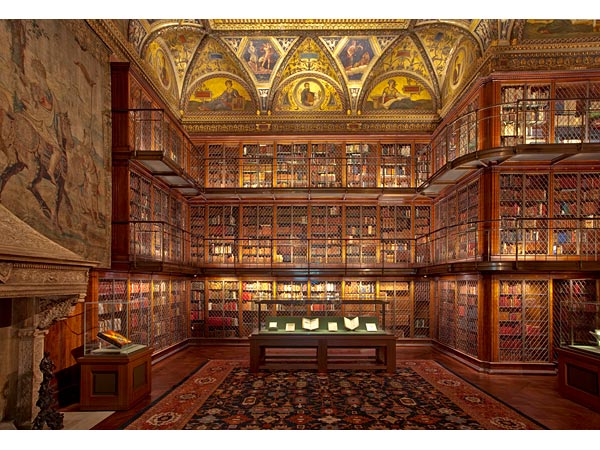 Morgan's Library is located just steps away from the Library Hotel. Pierpont Morgan was the most influential financier in this country's history and a voracious collector of rare books, manuscripts, drawings, prints, and ancient artifacts. All of his collections are the core of The Morgan Library & Museum's holdings. (Photo Credit: themorgan.org)
Bryant Park
Just a block away from the Library Hotel is Bryant Park. It truly is fun to visit any time of year with various offerings for each season. In the spring, take in the luscious smell of blooming flowers or enjoy a grab and go lunch outside! As it gets warmer and summer arrives, take advantage of the special outdoor activities such as free fitness classes, outdoor movie screenings, and Broadway performances. You may have walked past these events numerous times, but now you have the chance to experience it for yourself! Throughout the fall, take in the beautiful foliage as we transition to the colder weather and prepare for a magical NYC winter wonderland. During the winter months, twirl on the ice rink or shop unique gifts for your loved ones at the Christmas market.
(Photo Credit: Bryant Park Blog)
5th Avenue Shopping
Fifth Ave may be an avenue you walk everyday to get to work or go nowhere near, but did you ever take the time to say "I'm going to spend the day on Fifth and see where I end up"? There are stores for every preference and budget with the latest fashions or trendy home decor.  The shops start just a few blocks from us on 39th St and continue all the way up to Central Park. Get lost in the department stores! We have some of the most historic and iconic stores right in-front of us; Lord & Taylor, Saks Fifth Avenue, Henri Bendel, Bergdof Goodman and Barney's New York! Take it floor by floor, why not! Whether you're having a shopping spree, window shopping, or treating yourself to some retail therapy, do it on 5th! PLUS, you'll finally have the chance to take in how gorgeous the window displays actually are!
(Photo Credit: TripAdvisor)
Equinox Spa
Did you know you don't have to be a member to experience the custom spa treatments that Equinox has to offer! On 44th St and Lexington Ave, this nearby Equinox has one of the cities most luxurious spas. Take the time to recharge with your choice of lavish facials and masks, deep massages, and specialized body treatments. Check out the full service list here! (Photo Credit: Equinox.com)
Bookmarks Lounge
The Library Hotel's Rooftop bar is the perfect way to start off your night or conclude a busy day of being a tourist. Enjoy a beautiful view of the NY Public Library while sipping a deliciously crafted, book-themed cocktail.
---
The beauty about a staycation is you don't have to commute home with your shopping bags or your yoga mat. You won't even have to sit in rush hour traffic or worry about catching a train later in the night because your home for the night is steps away at the Library Hotel.
Other Articles